Whether you're a partner looking to take your career to the next level or a law firm seeking out the best talent, there's a good chance you won't achieve the success you're hoping for without a plan based on a comprehensive and current understanding of the market. With this newsletter, our aim is to provide you with information and analysis that will inform more strategic decisions.
Once a quarter, we'll send you our list of partner moves throughout Texas, as well as a few quick notes on the newsworthy trends we're seeing. Keep reading to learn about this quarter's goings-on!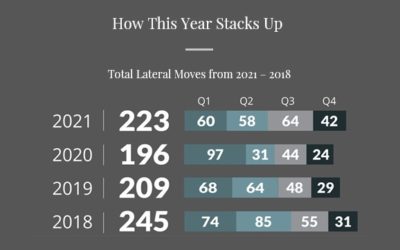 Highlights for 2021: record breaking Q4, returning to pre-pandemic levels; M&A accounted for 1 in 4 moves; Texas-based Jackson Walker tallied most moves in 2021; 10 firms entered Texas market last year, 6 in Austin; Houston's share of moves declined, Austin...
read more